Therapy Services
You don't need to be an expert. Our team helps assess and create a tailored healing plan for kids of all ages.
Search for services your way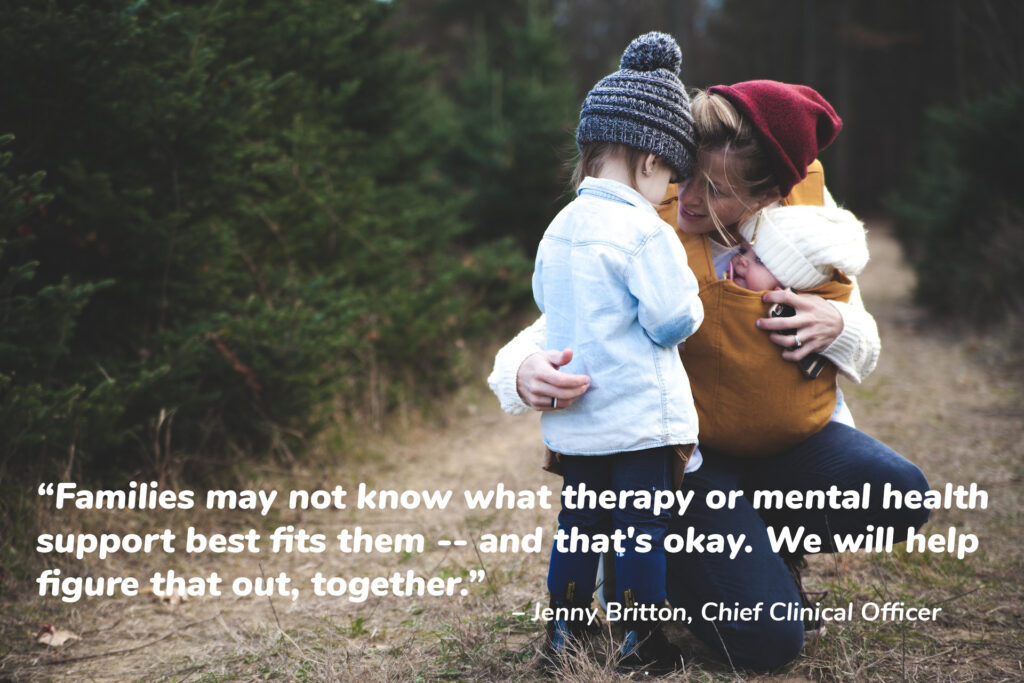 From infants through teen years, our therapists meet your child and your family where you need it.
Diagnostic assessments for incoming clients (completed during the first session)
Psychological testing for current clients of Washburn Center (Ask your therapist if this would help your child's journey.)
School-based programs in 50+ schools
Washburn Acute Response Model (Post-emergency support)
Day Treatment classrooms 1/2 day therapy and classroom at Washburn Center and 1/2 day in their primary school or preschool
Family Focused therapy early childhood (birth to 6 years old) mental health services provided in the home between child and caregiver
Outreach a consultative model for daycares, families and day care providers/staff in Hennepin County
Day Treatment classrooms provide early intervention and helps children in pre-school through second grade in the Minneapolis school district.
Dialectical behavior therapy (Please call 612-871-1454 or talk with your Washburn Center therapist for availability of DBT groups)
Services by Program
When it comes to therapy work with children, we understand that however it's delivered it's best when done together when our staff partner with caregivers and understand the whole family system. Here's an overview of our primary programs:
Services by Location
In-home, in-school, and in-clinic, our therapists meet your family where you need it.
7100 Northland Circle N, Suite 118
Brooklyn Park, MN 55428
5050 Lincoln Drive
Suite 350
Edina, MN 55436
1100 Glenwood Avenue
Minneapolis, MN 55405
School partners in Bloomington, Minneapolis, Eden Prairie and Burnsville-Savage-Eagan districts as well as several specialized settings. See the full list here.
A WARM-contracted hospital system referral is required to be connected with this innovative program.
Allina Hospitals and Clinics

Abbott NW
Bandana Square Clinic
Bloomington Clinic
Buffalo
Cambridge ED
Coon Rapids Clinic
Cottage Grove Clinic
Dean Lakes
District One
East Lake Street
Faribault
Forest Lake
Greenway
Hastings
Maplewood
Mercy / Unity
New Ulm
Nicollet Mall
Northfield
Owatonna
St. Francis
Ramsey Clinic
United
West Health
West St Paul
Woodbury

Children's Minnesota

Lakeville
Minneapolis
Roseville

M Health Fairview

UMMC Masonic Hospital
UMMC West Bank (Riverside)
Partnerships are formed when community need is identified. These organizations have partnered with Washburn so that innovation takes hold to help give children and families access to critical, quality mental health care.
Interfaith Outreach Community Program
Northside Achievement Zone