My child is experiencing anxiety
STEPS TO TAKE DURING AN ANXIETY-RELATED EMERGENCY: When your child is experiencing an anxiety crisis, follow the steps below on how you can step in to help them weather the storm. If your child needs immediate, emergency support, call 988.
Settle: Stop and sit with them – create a calm, quiet environment together.

Take at least 5 minutes in a quiet, separate room without talking, and feel comfortable letting your child engage first.
Practice 4-7-8 breathing together – 4 seconds inhale, hold for 7 seconds, exhale for 8 seconds, repeat. Lead by example.


Listen: Once both of you have calmer senses and can speak, ask simple questions, reflect on what you hear. This is reflection vs action: no need to fix the problem at this stage.

What would you name this feeling?
Where in your body are you feeling the worry?
When did you start feeling this way today?


Affirm: Show your child that you've heard their feelings, you understand, and you are there for them.

I hear how that feeling could be scary.
You are describing that _____ makes you feel stressed. I understand, and I am here to listen when you feel worried.


Redirect: It can be easy to find yourself caught in a spiral. When you've listened for a while and found calm together, try a favorite, peaceful activity that your child enjoys and that you can both participate in.

Tell a story or read a book together.
Go on a walk in your neighborhood.
Watch a non-stressful video or show.
Make an easy, simple meal together.
Create some art, even if it is as simple as coloring books.
Does fear or worry disrupt your child's daily activities? Anxiety is the most common mental health challenge for all ages.
Children often feel anxiety bubble up when they are faced with a new, scary or unknown situation; but any situation has the potential to generate anxiety, even old activities they used to enjoy. Your child is unique, so their worries will be unique to them too.
What can a caregiver do when an activity feels stressful?

An adult's reaction can serve as a model for how to get through the scary or unknown.
Say something to validate their feelings: "I can understand how that's causing you to be worried or scared."
"Let's take a moment to calm down a little, and then try again together"

Feel comfortable taking small breaks when something new comes up, and use them to showcase calming techniques.
Allow the child to attempt the activity on their own, but with your verbal encouragement. Mistakes and inefficiency are part of learning!

Role-play or act out ways for them to get through the situation. Verbalizing situations can help kids feel more confident and are more likely to try strategies when they are alone rather than pulling away.

For toddlers: that might be shaking it out with their hands or bodies
For adolescents: naming the anxiety or making it a color can help kids better imagine, recognize, and tame their worry.
For teens: listening, asking questions, and assuring confidence can feel less childish and help them organize thoughts.

Build your child's confidence by praising them for facing challenges or trying something new. Together you can help them see how to reframe and re-approach their own unique feelings of worry when managing an unsure moment.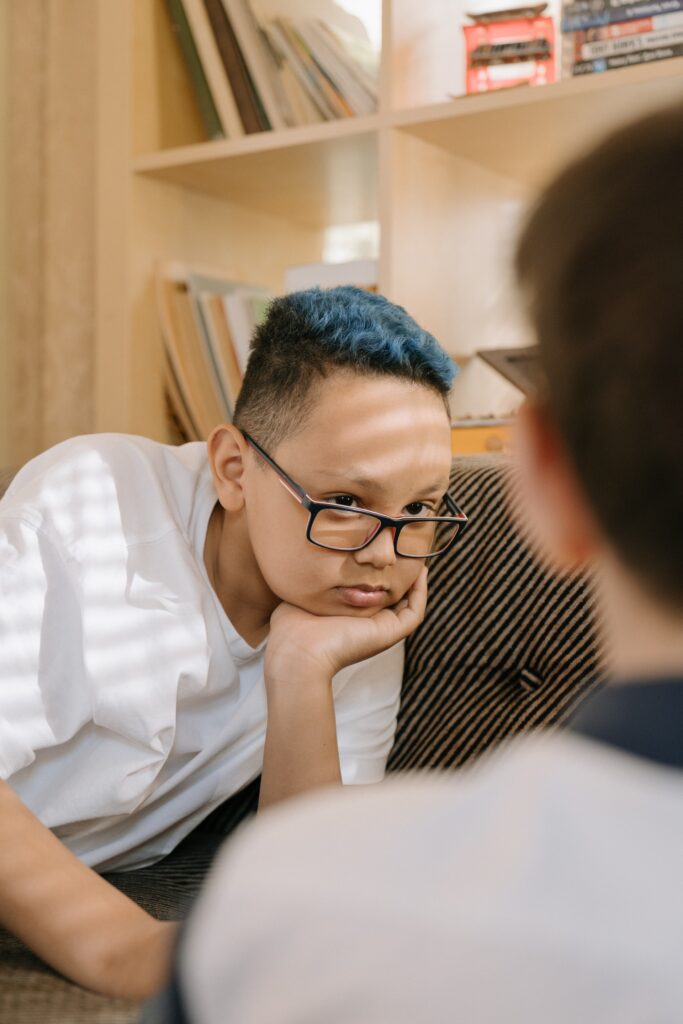 Note: This information should not be used for the diagnosis or treatment of a mental health condition. Call 612-871-1454 to learn more about Washburn Center's mental health services for children